A new chapter for Butter Baby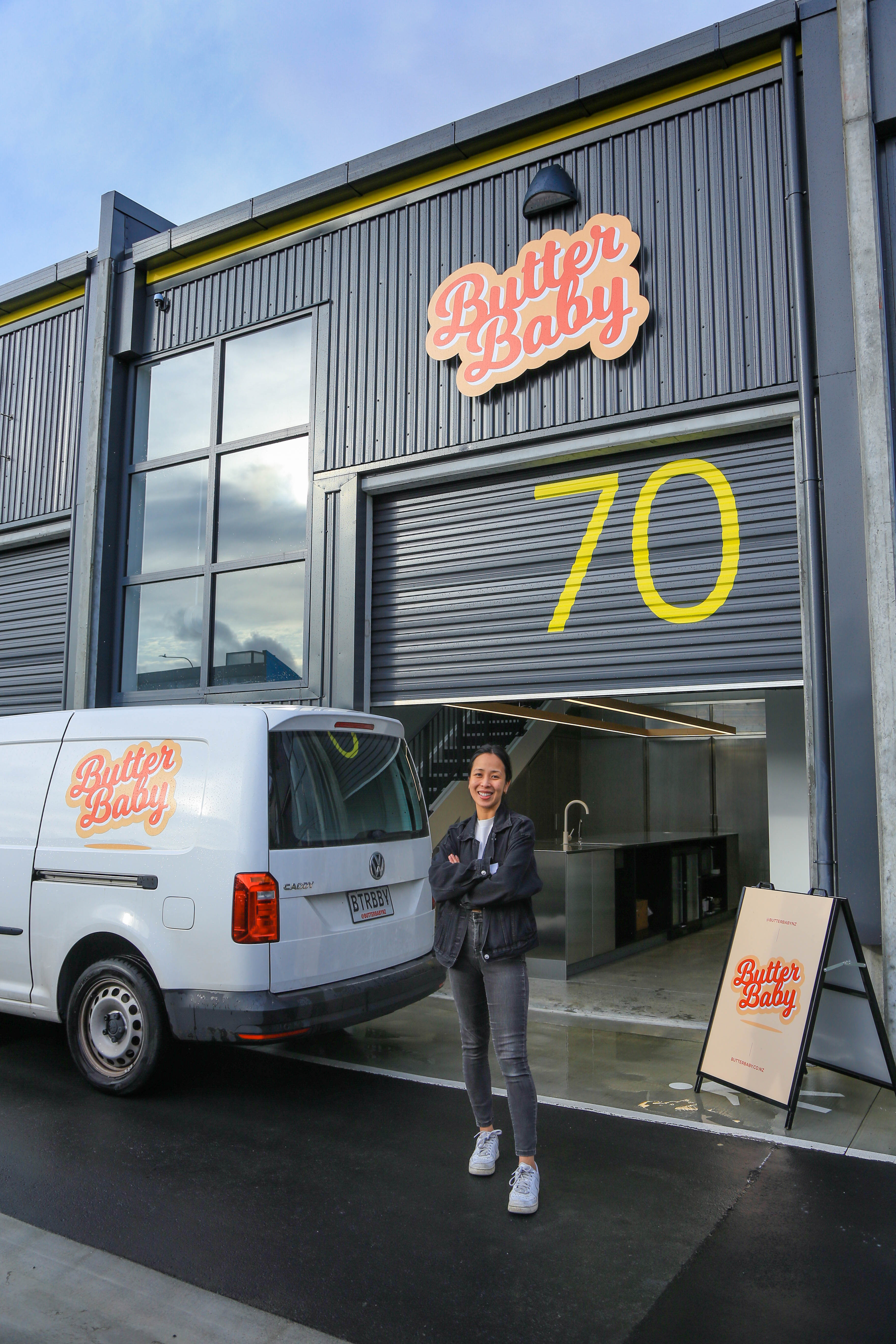 leek, industrial Butter Baby HQ opens its doors for takeaway in West Auckland.
Saturday 30th September 2023 - Brioche donut, Cinny bun and cookie darlings, Butter Baby are thrilled to announce the official opening of their new flagship kitchen and very first shop at Unit 70, 11 Northside Drive in Westgate, West Auckland.
Baked Best Out West - The new store is based on a takeaway concept where customers can order a cup of coffee from Wellington based, Flight coffee alongside a full range of Butter Baby's brioche donuts that will rotate on a fortnightly basis. The takeaway menu will also feature cinnamon buns, their OG cookies and the brand's best-selling Pandan and Ube cake slices. 
Founder and Baker, Matilda Lee shares her excitement, 'West Auckland has a special place in my heart. It is where I grew up and that was where we 'Westies' used to say everything was 'best out west". With the rapid growth and development of the Westgate area over the last three years, I am excited to be a part of its exciting food scene and to provide a culinary experience that introduces nostalgic new flavours with a contemporary twist."
Growing Into The Demand - Butter Baby began as an experiment in her parent's Henderson home kitchen, where Matilda shares she was using mum's pots, utensils and oven to produce about 20 donuts for her very first weekend market pop-up store.
Soon she found herself selling donuts at two to three different markets each week with demand growing to 300 donuts and various other goodies. At that point she realised the need to expand into a full kitchen. Her new kitchen and shop known as the new 'Butter Baby HQ' will allow her to produce double or triple the number of goodies for not just the markets, but also to cater to customers who want to order for walk in takeaways, events and special occasions.
Sugar and Steel Come Together - Working collaboratively with up and coming interior designers, 'Studio We Are Young' and Brave Construction who project managed everything, a relatively compact space of 72 square metres was efficiently maximised resulting in a concept kitchen with an edgy simplicity and an industrial feel.
The shop's design features an open studio floor plan with two levels. The upstairs loft serves as an admin office whilst the ground level houses a compact cold room where all the baked goods are stored and a fully equipped industrial kitchen.
In the middle of the kitchen is a sleek 4 metre long stainless steel benchtop that doubles as a work-bench, coffee counter and daily display where daily patisserie favourites are showcased.
A small bench with limited seating allows customers waiting for their goodies to be packed to enjoy a takeaway coffee.
Bringing a pop of colour into the stainless steel surrounds, is a burnt butter orange light feature that stretches through the front to the back of the kitchen illuminating and highlighting the bench space below.
The Butter Baby logo is also unmissable. The red, orange and white logo features boldly on their roll-up garage door entrance and on their delivery van, parked just outside the premises.
What's On The Menu - A daily menu of brioche donuts featuring Kiwi favourites like the traditional Boston Cream, Raspberry & Cream and popular Singapore heritage flavours like Pandan & Sago and Filipino Ube will be staples, with a new menu introduced every fortnight.
There will also be a selection of cinnamon buns, cookies (OG Choc Chip, Salted caramel coconut, birthday cake), Pandan and Ube cake slices alongside the occasional selection of local Singaporean sweet or savoury steamed cakes known as 'kuehs'.
About Butter Baby - Butter Baby is a small artisan home bakery that first debuted in June 2021 at several weekend markets. Over the last two years, it has developed a following for its signature sell-out Cinny Bun Brioche Doughnuts, (Original Gangster) Chocolate Chip Cookie, Ube Kaya Cake and Pandan Kaya Cake. In September 2023, Butter Baby opened its first flagship kitchen and shop located at Unit 70, 11 Northside Drive in Westgate, West Auckland. Founder, Head Butter Babe and Baker, Matilda Lee is a hospitality and food photographer with a degree in Culinary Arts and her dream is to add a contemporary twist to old school comfort foods, having customers celebrate friendships and share memorable moments whilst bonding over new flavours or something as simple as a chocolate chip cookie.
Butter Baby HQ is located at Unit 70, 11 Northside Drive in Westgate, Auckland. Open from Thursday to Saturday from 8am to 1pm. Store contact number: 021 081 21914, email:  info@butterbaby.co.nz, www.butterbaby.co.nz.