New Stihl Shop to Open in Westgate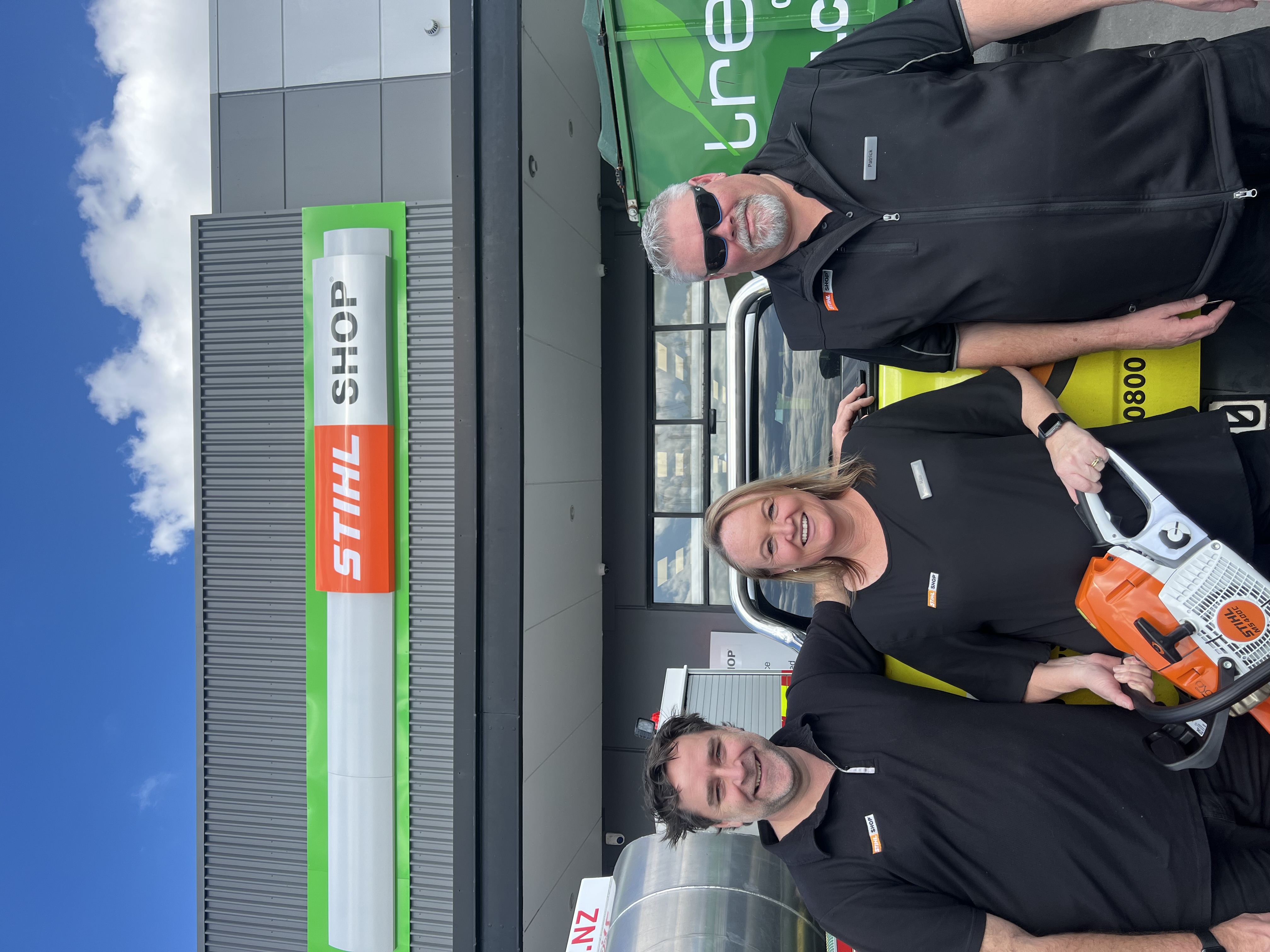 Attention all outdoor and garden enthusiasts!  A brand new STIHL SHOP is about to open its doors in Westgate, offering a wide range of outdoor power tools and accessories to help you tackle all your property maintenance needs.
Established by the award-winning team at STIHL SHOP Kumeu, the plan for their new Westgate store is simple – to provide the same high level of service and quality products, with a strong focus and commitment to supporting the local community, just like they do at Kumeu.
For 8 years Craig and Margaret Walker have owned and operated the STIHL SHOP at Kumeu and thoroughly enjoy and embrace being part of a close-knit and supportive community.  STIHL SHOP Kumeu prides itself on its involvement and connections with its surrounding community.  They actively support the local Fire and Emergency Services in the district, donating product, advice and services as often as they can.  As proud sponsors of local sports clubs, schools and early learning centres and active members of the NorthWest Business Association, the team are always looking for new ways to show their support to organisations and other local business operators. 
While the STIHL SHOP Kumeu team hasn't been shy in supporting their local causes, they've still been overwhelmed by the very unexpected recent show of support to them from the community while setting up their new venture at STIHL SHOP Westgate.  "We've been amazed by the kind offers and actions of many of our local business colleagues and customers", said Ben and Rae Deakin, who manage the marketing and business development for both stores.  "Assistance with security measures, fit out and shop set up have been really helpful, and the genuine encouragement and support from our Kumeu community has been very humbling.  We've loved having visits from our Kumeu customers and business colleagues during our setup phase, and having the team from Fire and Emergency call in to check our progress certainly stamped our mark with the neighbours!"
The new STIHL SHOP is conveniently located in the heart of Westgate at 15 Kakano Road, just 250m from Costco.  Whether you are a professional landscaper or a weekend warrior, you will find everything you need to keep your backyard looking its best.
From chainsaws and trimmers to blowers and mowers, STIHL SHOP Westgate has it all. Their knowledgeable staff is always on hand to help you choose the right tool for the job and provide expert advice on how to use it safely and efficiently, with the added bonus of all equipment leaving the store fully assembled, run-up and ready to operate.
In addition to their extensive selection of power tools, STIHL SHOP Westgate also offers a wide range of accessories, including safety gear, lubricants, and replacement parts. They even offer servicing and repairs for all STIHL products, ensuring that your tools are always in top condition.
The team at STIHL SHOP Westgate are looking forward to meeting their new community and customers when they open in September.  Head on in to meet the team and discover everything they have to offer. With their unbeatable selection, expert advice, and top-notch customer service, you are sure to find everything you need to tackle all your outdoor projects with ease. 
STIHL SHOP Westgate will be opening in September, with trading hours Mon-Fri 8.30-5pm, Sat 9-3 and Sun 10-3.