Boston Café – Great Quality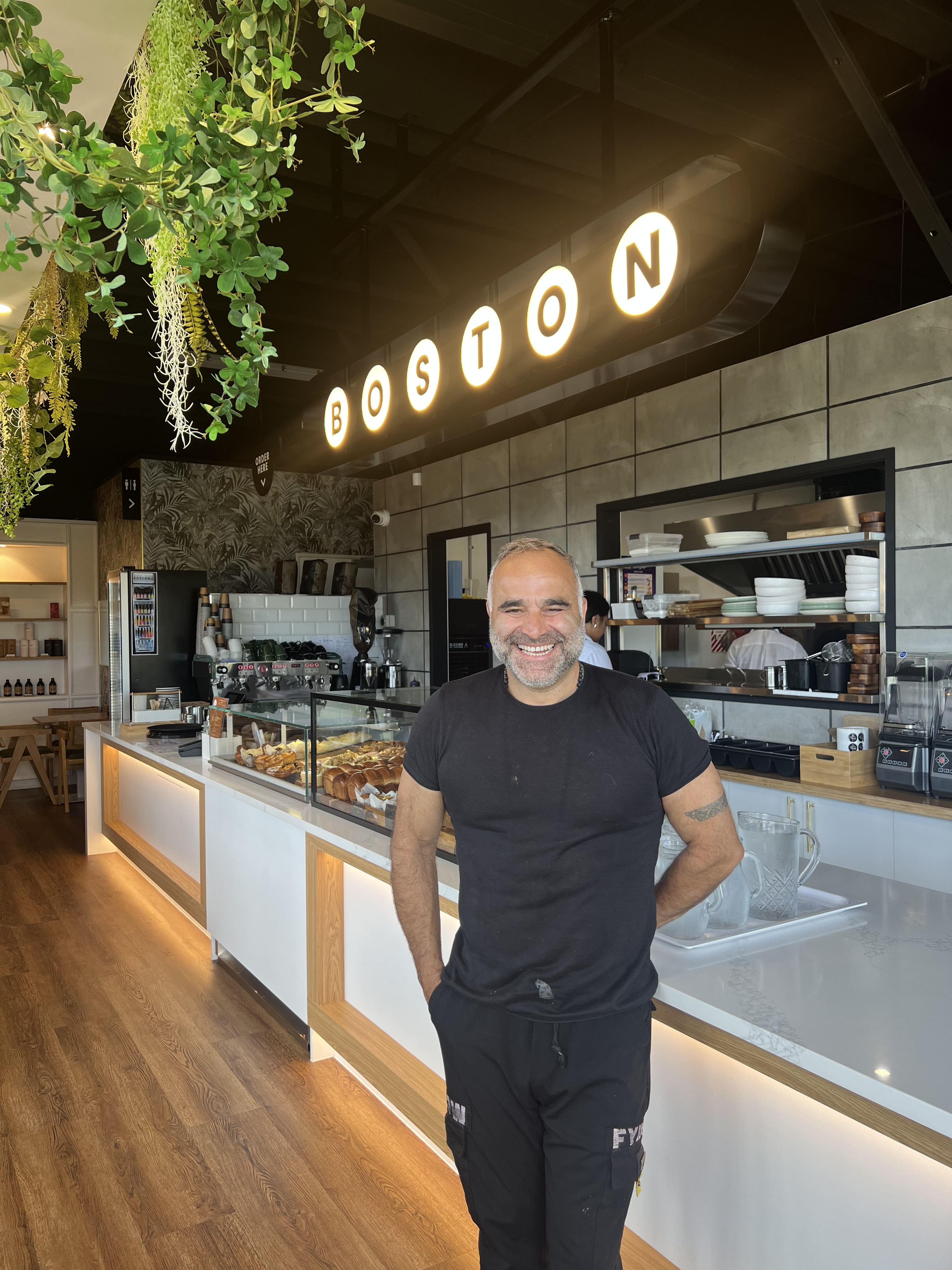 Boston Café, 7 Northside Drive, Westgate. Located just a stone's throw away from Mitre 10 Mega Westgate. Boston Café is the latest addition to the bustling Café scene in the area and under the meticulous and watchful eye of Antonio the quality of service, food and beverage offering is second to none.
As soon as you walk through the doors of Boston Café, you'll be struck by the modern and sophisticated style of the cafe setting. The sleek and minimalist design is both inviting and comfortable, making it the perfect spot to catch up with friends or to enjoy a quiet moment to yourself.
The coffee served at Boston Café is by Allpress, which is a well-known and respected brand in the coffee industry. Known for their rich and flavourful coffee blends, Allpress is the perfect choice for coffee lovers who want to enjoy a truly delicious cup of coffee. The baristas at Boston Café are experts at crafting the perfect cup of coffee, so whether you prefer a classic latte or a more complex pour-over, you're sure to be impressed by the quality of the coffee served here
In addition to great coffee, Boston Café also offers a delicious selection of pastries and baked goods. From classic croissants to more unique treats like macrons and gluten-free options, there's something for everyone to enjoy. The pastries are made fresh daily and are perfect for those who are looking for a sweet treat to enjoy with their coffee.
Spending time at Boston Café you'll notice the staff and smiling, busy, engaged and very helpful, which in turn gives you a lift to your day, and makes the experience relaxed and comfortable.
If you have time to stick around, Boston Café also offers a tasty looking brunch/lunch menu. The menu features a variety of classic brunch favourites as well as some more unique options. The mushrooms on focaccia bread, for example, is definitely worth checking out.
The Café is open 7 days, so it's always a good time to visit. For those who want to enjoy their meal or coffee in the great outdoors, Boston Café also has a nice outdoor seating area. The outdoor seating is the perfect spot to enjoy the sunny weather and relax in a comfortable and stylish setting.
Some of the reviews highlight the experience:
David - We love this place. We have now been three times since they opened two weeks ago. We love the atmosphere. Great coffee and food. Bakery items really fresh and tasty. Thanks for great service.
Andrea - Amazing food, tea and coffee. Interesting, creative and delicious dishes. Lovely staff.
Colin - I have been a customer at Boston Cafe for a long time now, and I am always impressed with the quality of their coffee. Their baristas are experts in their craft and they take pride in making the perfect cup of coffee. The coffee is always fresh and rich, and it always has a smooth, satisfying flavour. I love to enjoy my coffee with a pastry or a sandwich, and I am always impressed with the quality of the food. Everything is made with fresh ingredients and it is always delicious.
Boston Cafe is not just a great place to get coffee and food, but it is also a great place to catch up with friends or work on a project. They have a great selection of seating options, including tables, chairs, and comfortable couches. And there is always a friendly staff member around if you need help.
All in all, Boston Cafe is the perfect spot for anyone looking for a delicious cup of coffee, a tasty pastry, or a satisfying brunch or lunch. With its modern and sophisticated style, expertly crafted coffee, and delicious food, Boston Cafe is sure to be a new favourite among cafe-goers in Westgate. So head on over and check it out for yourself!
For more information go to https://sites.google.com/bostoncafe.co.nz/bostoncafe/  or drop in at 7 Northside Drive, Westgate or phone 09 948 3111.