Eye healthy winter-warmer with Westgate Optometrists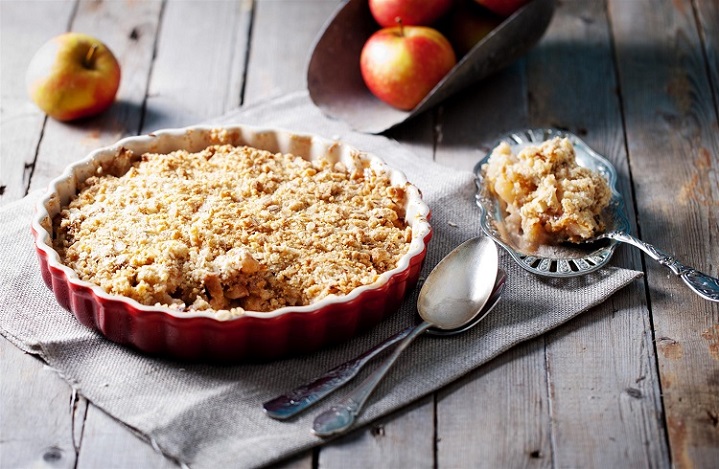 A classic in a kiwi winter cookbook, apple crumble truly is the greatest dessert around for many of us. As well as being a good source of vitamin C, apples are also packed full of bioflavonoid, which lower your risk of developing cataracts or age-related macular degeneration. Which is just another reason why you should whip up a crumble next time you fancy something sweet!
What you'll need: 300g plain flour, a pinch of salt, 200g unsalted butter, 225g unrefined, brown sugar, knob of butter for greasing, 450g peeled and cored apples - cut into 1cm pieces, Tbsp of flour, 1 pinch of ground cinnamon.
Instructions: 1) Preheat the oven to 180C. 2) Mix the flour and 175g of the sugar together in a large mixing bowl, adding a pinch of salt. 3) A few at a time, rub cubes of the butter into the flour mixture until it resembles breadcrumbs. 4) Add the apples into a separate large bowl, before adding the remaining 50g sugar, a tablespoon of flour and cinnamon. Stir well, but gently to avoid breaking up the fruit. 5) Butter an ovenproof dish, then spoon the fruit mixture into the bottom. 6) Sprinkle the crumble mixture over the top of the fruit. 7) Allow to bake in the oven for 40-45 minutes, until the crumble mixture has been browned, and the fruit mixture is bubbling. 8) Serve with custard or ice cream. Enjoy!
Westgate Optometrists, 4/46 Maki Street, NorthWest Shopping Centre. Around the corner from Goode Brothers Restaurant and opposite the Kiwibank. Phone 09 831 0202 or E: info@westopt.nz.