Little Creatures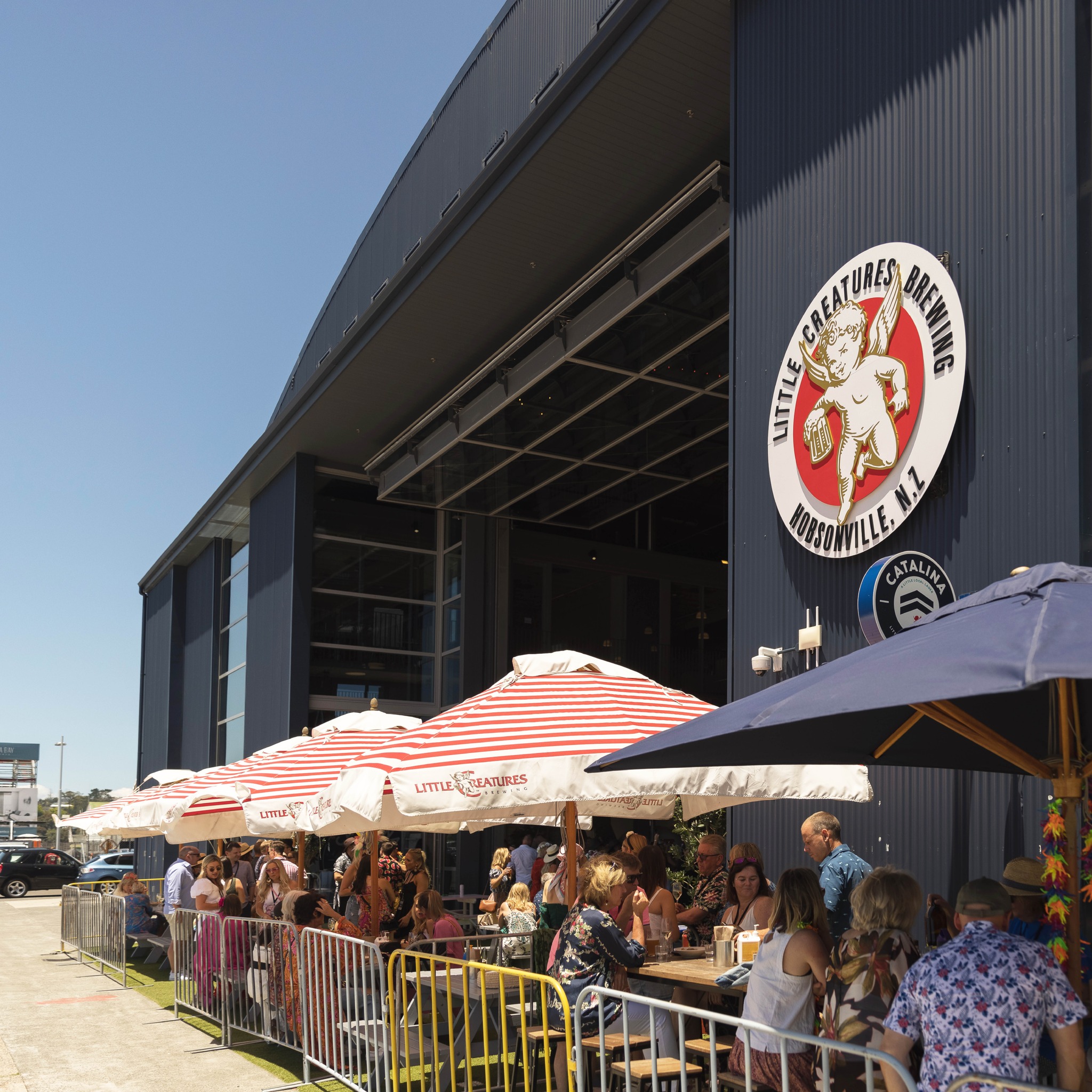 Beer lovers rejoice! Little Creatures has spread its cherubic wings and flown back into action.
Our Creatures team are delighted to be back and ready to quench thirsts with our exciting range of craft beers accompanied with new mouth-watering seasonal dishes from Head Chef Barry Armstrong. Over the next several weeks we will begin to share an array of exciting weekly rituals and events including our very popular Quiz Night, our new All You Can Eat Ribs evenings and those eclectic sounds of live music and guest DJ's. Are Thursdays the new Fridays? Keep your ear to the ground for some exciting news about local Thursdays at Little Creatures.
Little Creatures is all about its connection with our community and we truly want our brewery to continue to feel like a home away from home for Hobsonville Point locals and visitors alike. Embodying the quirks and eccentricities the brand is loved for, our hangar is the perfect spot to bring the family and enjoy a Creatures brew and meal by the water. Sunny weekends out in our new Seaside Beer Garden, cosy winter evenings snuggled with a cocktail in Kittyhawk or a large group partying away in the great hall. Little Creatures Hobsonville's dining hall is where the main action is. It is open to walk-ins and bookings alike. Pre book or walk in anytime, see the Maître d' and we will get you seated as soon as possible. This area features fast turnover small and large tables, and a fun, busy vibe.
Functions and private events are back baby! We love to host a party. We've got the space, you bring the mates… create a one of a kind event. Little Creatures specialises in large format private functions so let us help you create a one- of- a- kind event. We are able to set up various food stations throughout the venue for your guests. We can also do bespoke menus and beverage offerings and can accommodate bands, D.J's, stages and large presentation screens. If you are looking to cater from 200 – 500 people in an exciting and dynamic space, please get in touch with Patrick and let us create that event everyone will be raving about.
Situated within the Sunderland aircraft hangar, Kittyhawk is the only fully enclosed space we have. It is designed as our very own Officer's Mess and feels like stepping back into 1940s Hobsonville through its exquisite attention to detail in finishing and decoration. Kittyhawk is an outstanding space for functions, a unique daytime meeting space, and a beautiful cocktail/wine bar that perfectly contrasts the dynamic vibrancy offered at Little Creatures.
We have digital screens for presentations and whiteboards available for catered or non-catered business meetings and conferences.
To stay up to date on all our events here at the venue please follow us on Facebook or Instagram.
Little Creatures Brewery is located at 3 Boundary Road, Hobsonville Point.
For more information including signing up to our mailing list and to make a booking in our restaurant, please visit www.littlecreatures.co.nz.
Keep an eye on our Facebook page for a giveaway from Little Creatures.