Shooting hoops success for Red Nose Day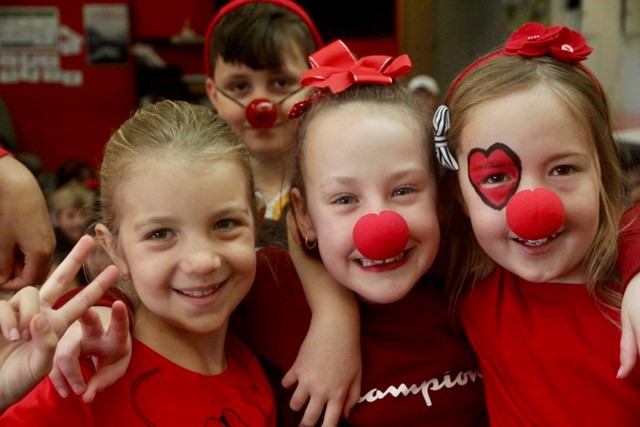 Shooting hoops success for Red Nose Day: The Breakers vs. Hobsonville Point Primary School.
From 10am to 1pm on Friday 30 July, a team of students played against the Breakers in a special basketball match for Cure Kids. Following the game a staff vs Breakers match took place, and a few students took part in mini basketball workshops with the Breakers. In addition, a silent auction was streamed live on Facebook for the community to bid on a range of prizes, including Breakers signed basketballs and jerseys. 
One of the school's own pupils, Jeremy, is a Cure Kids ambassador who was born prematurely at 29 weeks and spent the first eight weeks of his life in intensive care. Jeremy's dad, Franky, spoke about the concern of having a premature baby, "I was nervous, I was helpless, I wasn't sure what was going to happen".
"A lot of the donations for Cure Kids go towards pre-term research, which really helped my little one to survive, when to be honest at the time I didn't even know if a baby could survive at 29 weeks."
Hobsonville Point Primary School is passionate about supporting Cure Kids and dedicated the whole week to raising money through mufti days, bake sales and other pop-up events. HPPS Deputy Principal, Kristyn Dempsey was proud of their school's efforts for Cure Kids.
"Throughout the entire week of fundraising everyone has enjoyed themselves and donated generously. We couldn't be prouder to get behind such an important cause, enabling and supporting our kids to lead healthy lives"
Cure Kids CEO, Frances Benge, commented on HPPS's fundraising success.
"For children like Jeremy, having access to quality and ground-breaking healthcare is crucial in the early stages of their lives. Now playing basketball with his friends, you wouldn't even know he was born so early. For the last 50 years, Cure Kids has supported research into a wide range of health conditions, including preterm birth, so kids like Jeremy have the best chance of a healthy, bright future."
"Having supporters like Hobsonville Point Primary School is why we are still able to continue making a difference," says Benge.