Chocolate Ashwaganda Energy Balls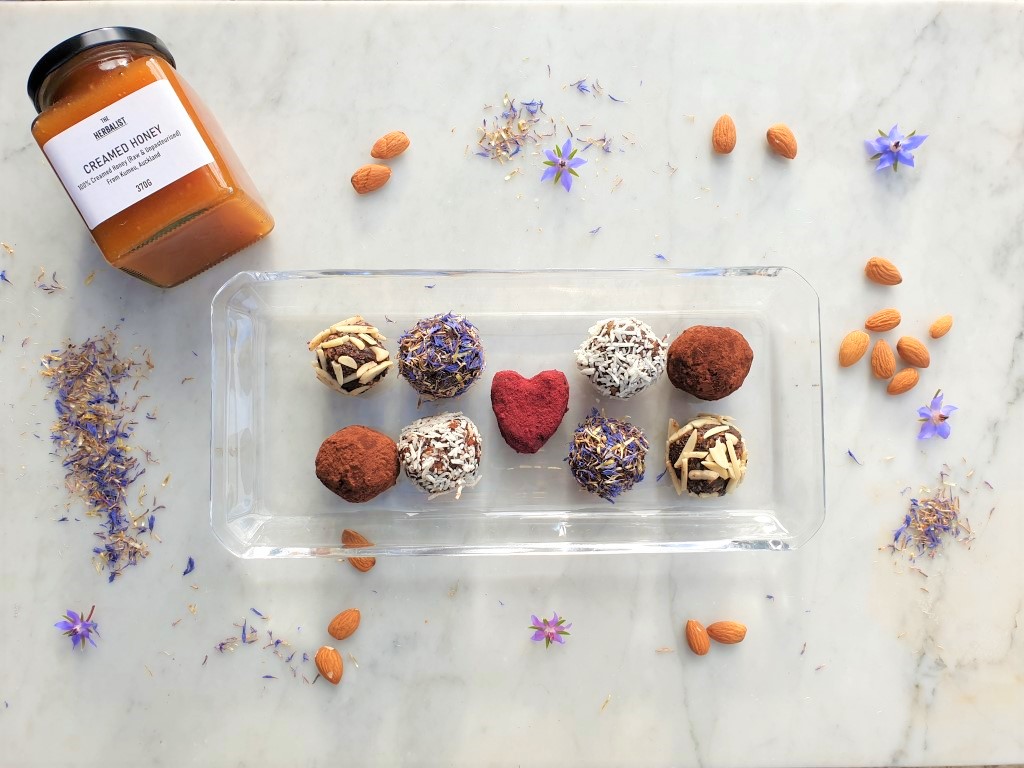 These delicious Chocolate Ashwaganda Energy Balls are filled with warming Chai spices, dark chocolate chips and yummy nut butter which make for a tasty energy snack or after dinner treat.
Ashwaganda (Withania somnifera) has traditionally been used as an adaptogenic restorative tonic herb.  It has a pleasant, mild and earthy taste and blends well with spices to make a caffeine-free chai tea.
Ingredients:  4 tablespoons nut butter (I used Everything Butter by Fix & Fogg), 3 tablespoons honey (I used our own raw, unpasteurised honey), 50g dark chocolate, chopped (I used Whittakers 72%), 1 tablespoon Ashwaganda made into a powder in the blender, 2 tablespoons dark cocoa or cacao powder, 2 tablespoons hemp seeds, 1 teaspoon cinnamon, 3/4 teaspoon ginger powder, 3/4 teaspoon cardamom powder, 1/2 teaspoon nutmeg, 1 teaspoon vanilla essence, 1/4 teaspoon salt and toppings of your choice - I used dried cornflowers, slivered almonds, coconut, cocoa powder and freeze-dried black currant powder
Method:  1.  Mix all ingredients together in a bowl until well combined.  2.  Take spoonfuls and roll into balls.  3.  Roll in toppings of your choice.
Store these amazing Chocolate Ashwaganda Energy Balls in the refrigerator for up to one week.  Makes approximately 9 large balls.
Ashwaganda and raw honey are available on our website along with a selection of certified organic single herb teas.  Visit us at www.NewZealandHerbalBrew.co.nz.