The Coffee Club Hobson Centre, Hobsonville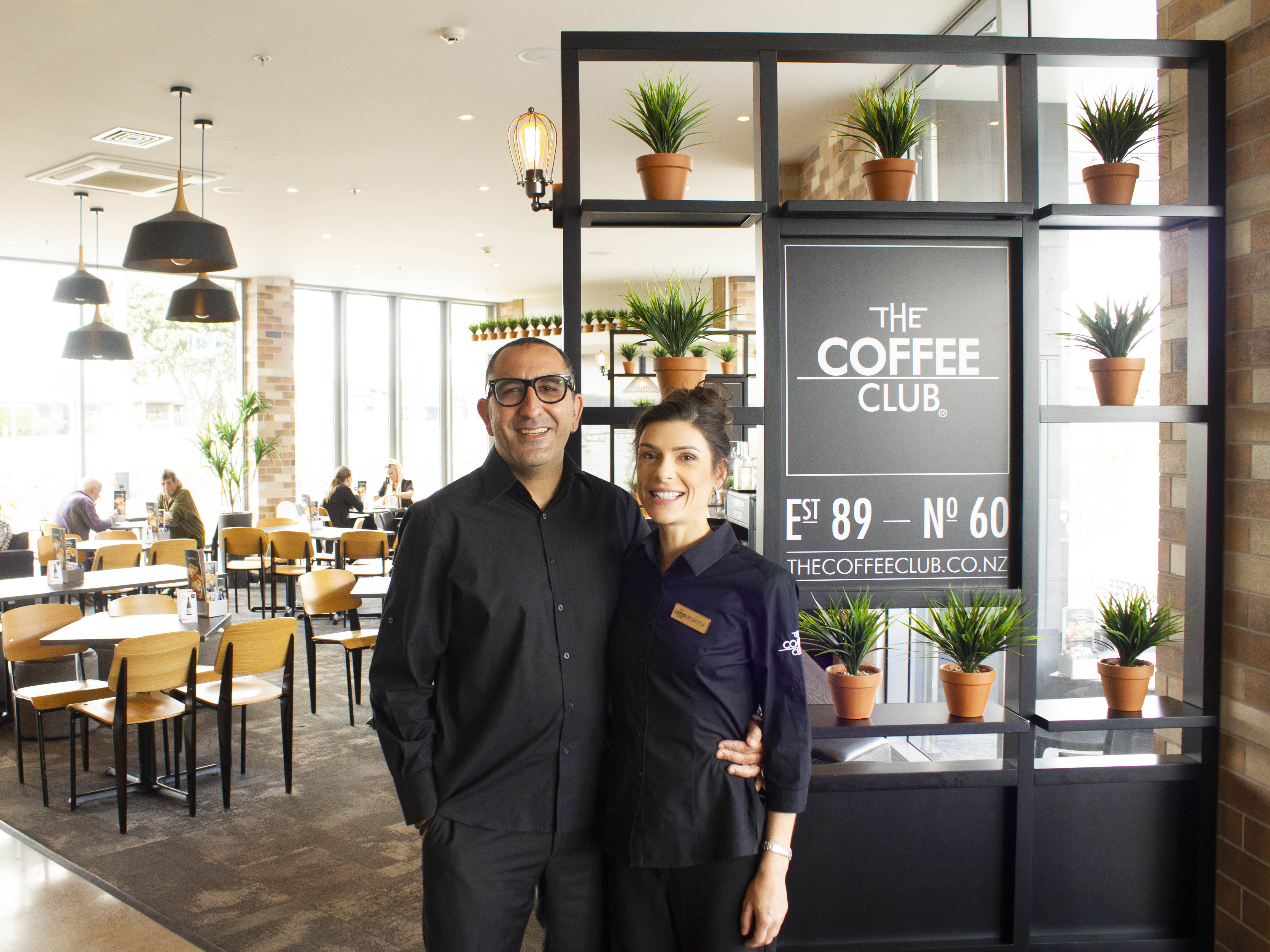 This year, The Coffee Club Hobson Centre at 124 Hobsonville Road, Hobsonville celebrates its 5-year anniversary since it opened its doors to the public.
Franchisees of The Coffee Club Hobson Centre, Gregory and Rebecca bought the business in 2016 upon their return to New Zealand with their twin daughters, after living and working overseas for a little over a decade. Gregory worked in Marketing & Advertising, while Rebecca worked in the Healthcare sector.
Gregory and Rebecca searched for a family-oriented business that would suit their ambitions and skills. "We always wanted to run our own hospitality business; we conducted our own research, studied the market and looked at the different opportunities available." Gregory is British of Lebanese & Armenian origin, and Rebecca is Kiwi from Invercargill. "We come from cultures that have a huge tradition for hospitality and good food. We love to look after people and to make them feel welcome, that's why we wanted to work in hospitality and looked for opportunities within this industry." Gregory says.
"Based on our backgrounds and qualifications, particularly from my own experience in marketing, I knew the importance of delivering great customer service and the need to also provide a good dining experience. This would also pave the way for us to apply the tools and skills developed from my marketing expertise. As such, we felt that working in hospitality would be a natural move for us and believed we had the potential to do well with our own hospitality business." Gregory added.
As a former Marketing Executive, Gregory recognizes a strong valuable brand with a strong customer base when he sees one, and The Coffee Club ticked all the boxes. "The Hobsonville store was on top of the list – new store, great location, growing suburb (still growing) and a lovely community as we came to know it."
"We're proud to be part of this community and The Coffee Club brand – we love that Kiwis associate it with good food and great coffee. The Coffee Club also places a lot of emphasis on training, menu development and ensuring customers receive consistent value and service."
"We didn't have direct hospitality experience; however, the learning curve wasn't too steep; we understood the business and its processes in a short matter of time. Surprisingly cooking had become a new passion for Rebecca" says Gregory. In fact, Rebecca has taken up bakery in store and the Hobson Centre café has developed quite a reputation in their local area for delicious homemade baked treats, such as their famed Brownie Cheesecake and their variety of Gluten Free muffins and slices such as the White Chocolate Plum and the Raspberry Dark Chocolate Muffins, and the Ginger & Chocolate Caramel Slices which have become customer favourites at their café.
It has been an exciting ride yet quite challenging, particularly during the past year with the ensuing Covid-19 pandemic. "We work in a lovely community and the support we received during these hard times from our friends and patrons in the community is just amazing".
The Coffee Club will soon be launching an exciting and fresh new Menu; so to visitors as well as established and new residents of Hobsonville and surrounding communities, Gregory, Rebecca and the Hobson Centre team would love to meet you and offer you Good Food, Great Service and Excellent Coffee.