Meet Nick McIndoe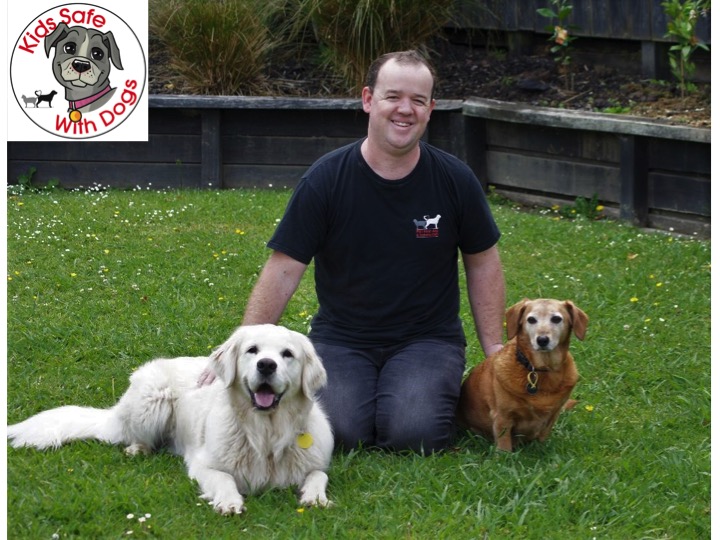 Not only does Nick work a full time job at Auckland Airport but he is also a husband and father. So what motivates Nick to give up the very small amount of spare time that he has to teach kids about dog safety?
I am an animal care/zoo keeping graduate, aspiring vet nurse and became a Kids Safe with Dogs instructor four years ago.
In 2014, I met the founders Joanna Clough and Laura Purkis.  They were looking for qualified and passionate people to assist the charity and go into schools to educate children. They had flown to Palmerston North and met with Massey University's director of psychology, Dr Kirsty Ross, to ensure that the programmes were age appropriate and factual.
One of the questions that I get asked a lot, while instructing, is to clarify "where is the best place to pat a dog?" Many parents don't like their children standing in front of the dog to pat the chin and chest. So I am very pleased to be able to reassure then that the "chest and chin" method of greeting dogs is outdated. A child wouldn't like to be touched on the face by a stranger or have their hair ruffled, dogs are the same.
As a father I love being able to educate children especially about something so important and using the programme that Kids Safe with Dogs has created is great. I am fortunate to be accompanied by either Fergy, a dachshund/Australian cattle dog cross, or Ollie the golden retriever. They are both incredible dogs, temperament tested and are the focus of each class.
All the children find the lessons interactive and fun. We use flash cards and each child gets an activity book filled with cartoon dog characters which makes the material easy to remember.
Following an introduction and H & S briefing, we begin with the 3 Golden Rules. Each class lasts around 30 minutes and following the golden rules it's time for Ollie or Fergy to shine as they test the kids' "trees" (Golden Rule number 3).
A big part of the class is getting the children thinking with "what if" scenarios and following a quick quiz to see who has absorbed the golden rules, flash cards are used to discuss situations such as "what if a dog is eating?"
Another refresher on the golden rules is followed by everybody's favourite part—patting the dog, making sure the rules are being followed of course. It's important to respect that some kids don't want to interact with the dog, while also ensuring they learn how to behave around dogs.
Older kids' classes are around 45 minutes and introduce animal welfare such as the 5 Freedoms and more complex scenarios that incorporate canine body language.
The sessions finish with a final check of the golden rules and questions.
I really enjoy teaching the Kids Safe with Dogs programme. The dog bite statistics in NZ are shocking, and as a father myself, I just imagine if it were my own boy. It's also heart-breaking to see dogs put down as a result, when education would prevent most bites. I am passionate about reducing dog bites and the latest ACC stats show that in areas where we are running programmes there has been a reduction in these..
If you think you would be interested in working with Kids Safe with Dogs please contact us on kids@dogsafeworkplace.com.