Setting the traps to catch the rats that eat the birds and skinks at Hobsonville Point…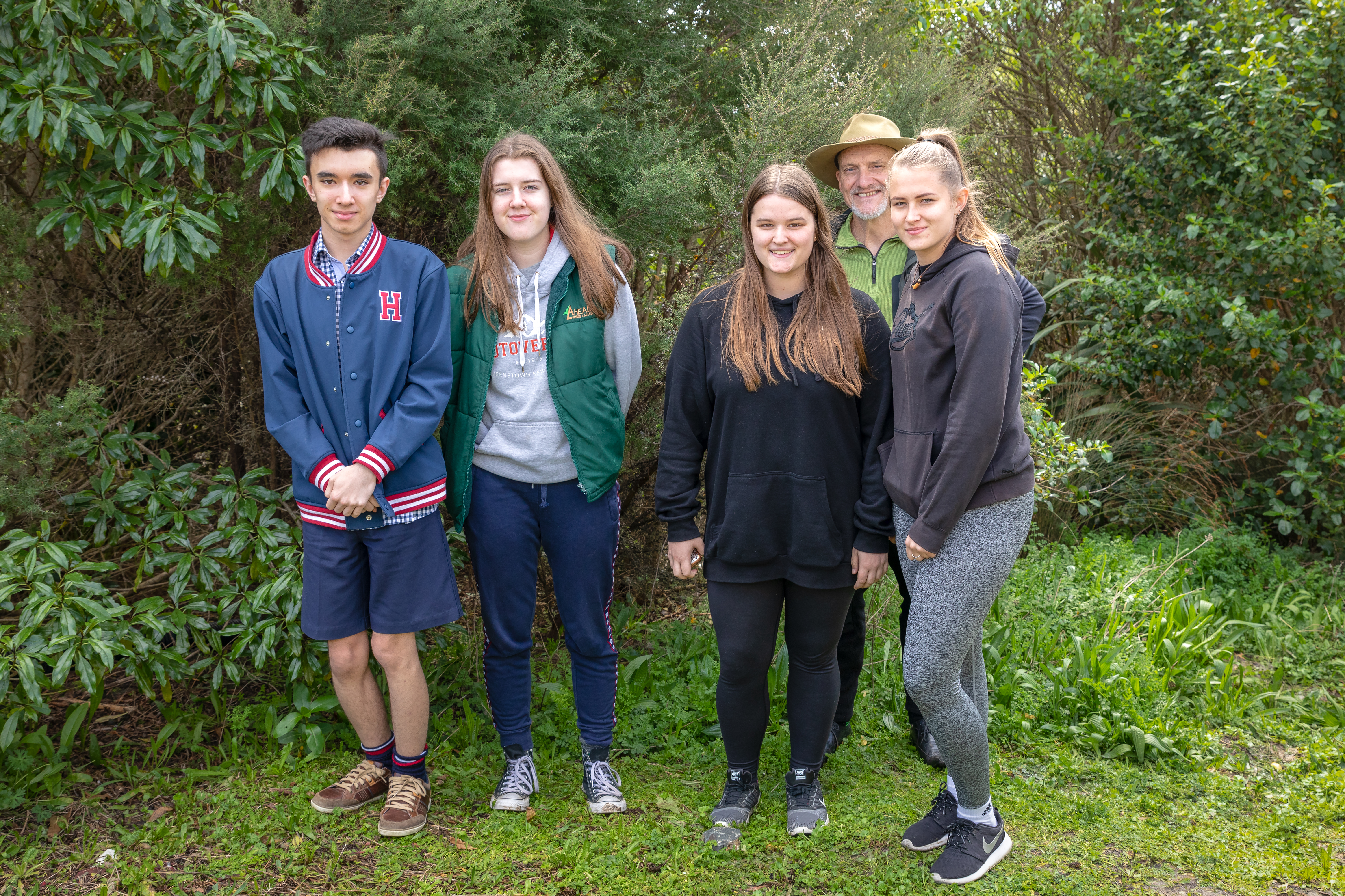 Welcome to the Hobsonville Point page for October. This month our story writer Sue Heggie and photographer Leanne Silver introduce Neil Henderson and his team at the Kaipatiki Project's "Pesky Pests Brigade", doing very important work to keep Hobsonville Point predator free,  protecting our native birds and skinks.  Read on to discover if you are a "dude" or a "twitcher".  More "ratters" are also always welcome.   I am your local real estate specialist and delighted to sponsor this page.  For a free no obligation appraisal of your home, contact Cherry Kingsley-Smith on 021 888 824 or cherry@mikepero.com.
Hobsonville Point is home to a wide range of bird species, but it is also home to a large number of predators curbing the bird population.
The Hobsonville Point Pesky Pests brigade are a hardy group of ratters ranging from students at high school through to a resident of the retirement village and everything in between. We were brought together by the Restoration Activator for the Kaipatiki Project, Neil Henderson, our very own Ratandtail Dundee.
Neil, who trained in Zoology, is keenly aware of the impact our furry predators have on birdlife, having worked in the past for DOC at Pureora Forest near Te Kuiti, catching, tagging and tracking kaka as well as being part of kokako population studies.
The results are in, rats prefer Pic. Rats are quite gourmet in their tastes. They love hazelnuts best, however our budget only stretches to the lowlier peanut butter but even here they prefer the Pic brand. Fortunately, as far as we know, nut allergies do not seem to feature in rats.  I admit to a slightly gruesome feeling of glee when I trap a rat because I see in my mind's eye a safer place for the cheeky fantail, a diving kingfisher or the banded rail with its hilarious gait as it darts around the mangroves. So far, the HPPP group have caught more than 30 rats in the last "pulse" in August/September. For their efforts, Hobsonville Pesky Pests has reached the finals of the Mayoral Conservation Awards in the Collaboration category and the results will be announced on September 19. A big thank you goes to local resident and ratter Anna Gehrke for making the submission.
Birders Which are you, a dude or a twitcher?
I'm a dude, that means I am a novice bird watcher and Leanne is too as she seeks out birds primarily for photography. A twitcher is a much more serious birder who wants to add as many species to their lifelong list as possible.
Watching you watching me. Research shows that while you are gazing at birds, they are also gazing at you!
In New Zealand there are scientific categories for bird species status. They include categories of 'threatened' (nationally critical, nationally endangered, and nationally vulnerable) and 'at risk' (declining, relict, recovering and naturally uncommon).  We are so fortunate here on the Point to have several birds in these categories and we need to look after them. In time we may even be able to support species not yet resident here, such as the banded dotterel.
In the threatened – nationally critical we have the grey duck and we likely have occasional visits by the black-billed gull.
In the threatened – nationally vulnerable category, residents have spotted the Caspian tern.
In the at risk - declining category we have the delightfully shy banded rail, the South Island pied oystercatcher as well as the red-billed gull.
Notably we have the New Zealand dotterel, which is classified as at risk – recovering; in fact, we have 1% of the New Zealand dotterel population of NZ here on the Point. Also seen around the Point are pied shags and the variable oystercatcher, in the same category as the New Zealand dotterel.
We also have lots of other lovely native birds enjoying the Point as their habitat. And it's not just birds. We hope to encourage the ornate skink to take up residence and outnumber the Aussie Plague skink (AKA Rainbow skink). We would also welcome the native copper skink to set up home here.
We all know dogs are folks' best friend but sadly they are not a bird's best friend. Please keep your pooch on lead unless in the off-leash designated area. The shoal bays are special places for many wading birds, so those areas are out of bounds for dogs too.
Would you like to be involved?
This year Neil is planning to engage with the Hobsonville Point community as well as the wider Upper Harbour residents to establish some regular monitoring of shore birds and waders. Anyone who has a good pair of binoculars and a bit of time to sit still and observe is welcome to contact Neil at Activator@kaipatiki.org.nz. If things take off, Neil is also hoping to establish a binocular lending library at Hobsonville Point. Donations much appreciated!
Other upcoming new community events:
Inner Wheel NZ Inc is establishing a new charter in Hobsonville Point and are holding a meeting for women in the Westgate, West Harbour, Hobsonville Point and surrounding area. It is for women who want to meet new people and give service to their community. www.innerwheel.org.nz.  Email: nz291membership@gmail.com.
The Headquarters Building, Te Mahere 214 Buckley Road, Hobsonville Point. Wednesday 16 October 7:30.
New Probus Group Probus provides you with the opportunity to join a social club in your local community to meet retirees on a regular basis, listen to interesting speakers and join in activities.
Headquarters Building - Te Mahere, 214 Buckley Avenue, Hobsonville Point. For further information please contact, Wayne McDonald T: 09 478 3044 M: 021 786 753 E: waynemcdonald@xtra.co.nz.
Date/Time: Monday 11th November 2019, 10:00am to 12:00pm
Your feedback and ideas are welcome:
Story Writer - Sue Heggie, heggies@xtra.co.nz
Photographer - Leanne Silver, leanne@argent.me, Argent photography on Facebook, instagram@argent_photography
All photos above are the property of Argent Photography and may not be used without permission. Please email leanne@argentphotography.me if you would like to use one of the images.