Fly First Class - Without leaving the Hangar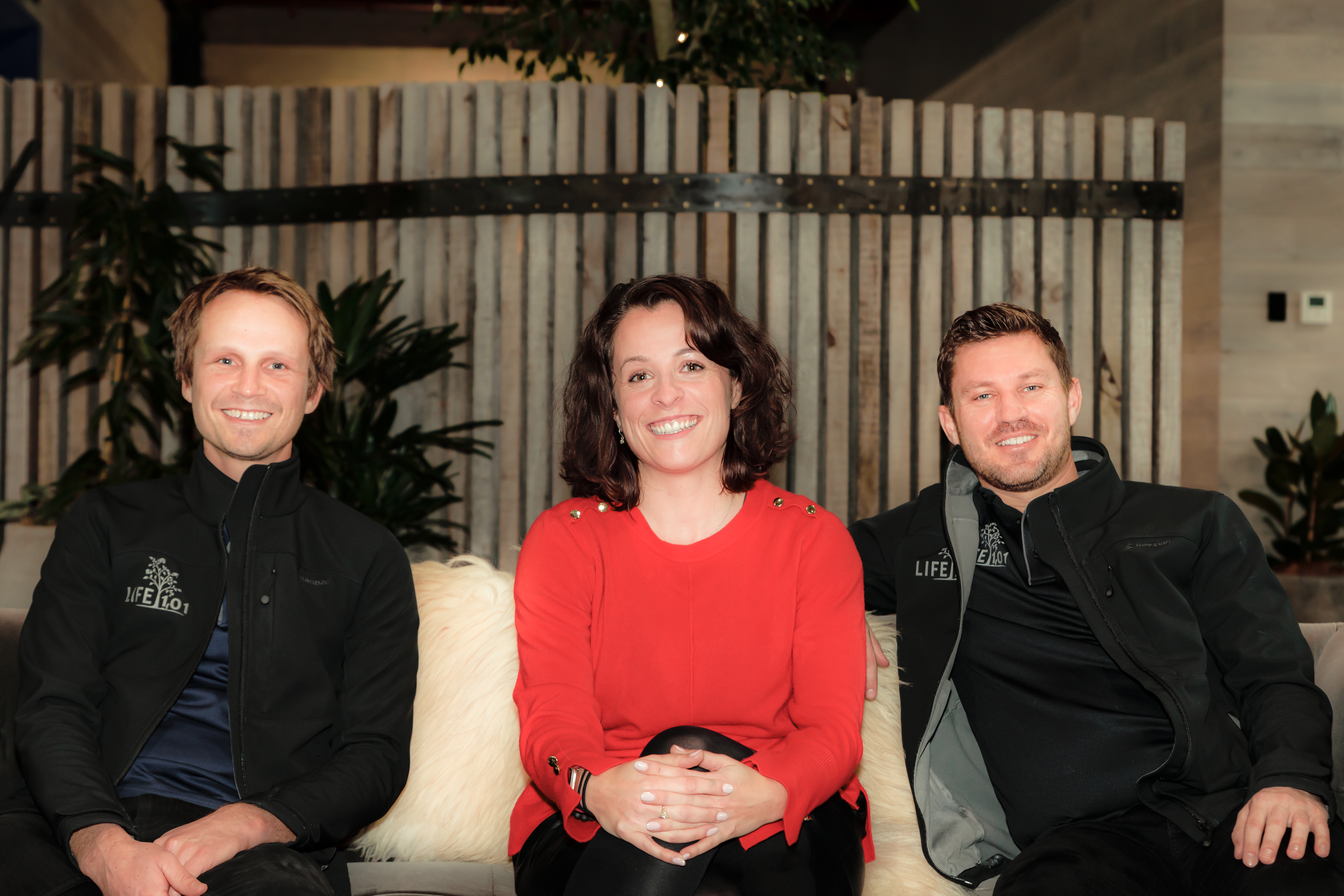 Welcome to the Hobsonville Point page for September.  This month our story writer Sue Heggie and photographer Leanne Silver discover a new and unique collective workspace in Catalina Bay. I am your local real estate specialist and delighted to sponsor this page.  For a free no obligation appraisal of your home contact Cherry Kingsley-Smith on 021 888 824 or cherry@mikepero.com.
The Hangar in Catalina Bay is the new collective space for collaborators and creatives with innovative co-working spaces, meeting spaces of varying sizes and a larger function space. It has an industrial vibe with a nod to its previous life as the Sunderland hangar. It is situated on the mezzanine storey of Little Creatures and is large, light and airy with a stunning view across the water.
Think very cool Koru club; fresh fruit, espresso machine and a fabulous washroom complete with shower, towels, hairdryer, straighteners, shampoo, conditioner and flowers.
The interior is sophisticated chic; high ceilings with exposed original fittings, and everything from club leather chairs, furry bean bags and velvet sofas in the shared spaces, to office desks in a variety of configurations.
Leanne and I went to meet two small business owners to find out why they chose the space for their work.
Sarah Adam, owner Luxe Beauty Group New Zealand
Sarah lives in HP (and therefore receives a discounted rate) and has two young boys. Her wide smile and opening sentence say it all.  "I am a total advocate of this place." When working from home, Sarah found it difficult to maintain good boundaries between work and family, here she has much clearer definition and focus to her day.  Reveling in the creative, stimulating environment with opportunities to bounce ideas off other businesses, the chance to discuss marketing strategies and generally interact with like-minded people has Sarah buzzing with enthusiasm. With the LC brewery and bar downstairs, Friday drinks and socialising are pretty convenient too. The professional development is another positive aspect, with a business mentor coming in each month.
Sarah exclusively markets and distributes International Beauty Brands through Luxe Beauty Group here and in Australia, direct to consumers as well as to the professional market with the support of her friendly neighbour, it really is a local team effort!  Sarah loves her quality products and shares her mango hand cream with us while we chat. Sarah sells one of her beauty lines  from www.geniebeauty.co.nz and is offering readers a special 25% discount by using "Westerly" as the checkout code. The first five purchasers will also receive a free Gel Eyeliner gift worth $29.95.
Life101 Nick Carroll and Philip Moon
Nick and Philip have been working from their homes for several years, communicating via Skype and internet but found this wasn't meeting their need to communicate effectively. Nick lives at Muriwai and HP was a convenient halfway point for them both. Working together, being able to readily exchange ideas and chat has made them moreindustrious and they share a "noticeable increase in productivity".
The Life101 team www.life101.co.nz  coach life skills, financial literacy, and run programmes to improve work readiness, and encourage vulnerable young people back into the community. Nick and Philip regularly work with probation services, prisons and schools with service academies, to improve outcomes for people who struggle to make the transition to work. Philip draws on his own life experience as he describes the debt he got into as a young person and he teaches the pitfalls of borrowing money without understanding the consequences of very high interest rates.
Like Sarah they love the networking and interaction with others and the opportunity to reflect on their activities with a wider group. They enjoy the fluidity of the space, being able to move from a desk to a standing desk to a bean bag is a great change from being alone in a home office all day. The space encourages creativity and the outside environment is stunning. Philip comments, "We feel privileged to be in a space like this." With the 5km walkway on their doorstep and water views, all of them reinvigorate by going for a run around the coast and spending time in a natural environment.
On my departure, I was frantically trying to think up a lucrative business opportunity so I too, could work in such a space. Or maybe I just wanted to pretend I had gone for a run so I could shower in the first-class facilities, lounge on a furry bean bag, eat the fresh fruit and join the Friday afternoon drinks, all the while generously testing Sarah's beauty products.
If you are a little less frivolous and are keen to investigate the opportunities, contact info@thehangar.nz or phone 09 393 4995 for more info and rates, or pick up a brochure from the HP Info Centre behind Catalina Café.
Your feedback and ideas are welcome:
Story Writer - Sue Heggie, heggies@xtra.co.nz
Photographer - Leanne Silver, leanne@argent.me, Argent photography on Facebook, instagram@argent_photography