Hobsonville Choir's captivating performance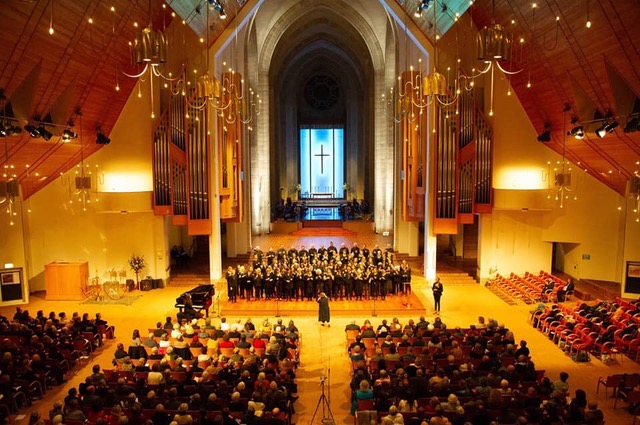 Last Saturday night Hobsonville Choir members did something unique, - they joined together with five other 'Everybody Sings' choirs and performed in the Anglican Cathedral as part of the VoCo showcase of nine leading Auckland choirs.  It was a special experience with their music echoing around the huge auditorium.  Conductor Kate Bell comments; "So many people said how amazing the song Ukuthula sounded with such a huge choir singing so beautifully from all around the building. People felt completely enveloped and genuinely much moved".
The Hobsonville 'Everybody Sings' choir celebrated its first birthday in July and some 40 singers now enjoy weekly rehearsals in the Hobsonville Point Primarily School gym.
Their next big event is the annual Christmas Music Special concert in Auckland Girls Grammar School hall.  This year they aim to fill the 800 seat auditorium and exceed last year's record contribution to the City Mission through ticket sales.
The choir is always looking for new members, particularly men, so if you'd like to take a look, pop along at 7:15pm any Thursday night during school term and listen or join in. The first night is free.  More info can be found at: www.thechoir.co.nz or call Mel on 021 677 778.